Douglas Stebila
Visiting Hobbiton
December 3, 2015 at 08:00PM Travel Dunedin New Zealand North Island South Island
I've been in lovely New Zealand for the past week. Last week I visited my friend Matt at the University of Otago in Dunedin to give a talk. Matt took me out for a run on the peninsula overlooking Otago Harbour and Dunedin.

The main reason for my visit was to attend the Asiacrypt 2015 conference at the University of Auckland, one of the three main cryptography conferences each year. Among the scientific papers was a very interesting invited talk by Phil Rogaway on the moral character of cryptographic research, which prompted a lot of discussion.
On previous trips to New Zealand, I visited several filming locations for The Lord of the Rings (it's pretty much the biggest tourist draw in the country, and it's hard to throw a stone and not hit something connected with the film series), including the inspiration for Mount Doom and the river down which the Fellowship canoed:
But one location I'd never been to was The Shire. It's in the middle of the north island. The set for the original Lord of the Rings trilogy was never built to last, and so it was mostly torn down after filming completed. When time came to film The Hobbit trilogy, the owners of the farm, knowing the tourism interest, asked that they rebuild using permanent structures that would last, and a new tourist destination was born: Hobbiton!
So, after the conference finished on Thursday afternoon, I drove down to a farm in the middle of nowhere about 2 hours south of Auckland for a tour of the Shire. The location is part of a family farm with sheep, in a little valley surrounded by hills such that you can't see any roads, buildings, or modern creations (making it a perfect filming location). There are a bunch of Hobbit holes, the gigantic Party Tree in the centre of the Shire, a pond, the Green Dragon Pub, and Bilbo and Frodo's house at Bag End at the top of the hill. The various Hobbit holes were built at different scales: 40% so that Gandalf would appear gigantic, and then some at 60%, 80%, and finally 100%, so that adult actors would match the size of their Hobbit holes.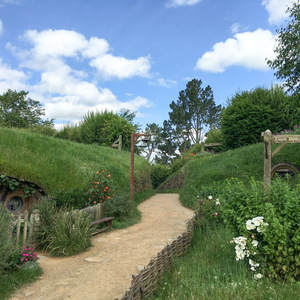 You can find more pictures in my photo gallery.