Douglas Stebila
Haa Alif Atoll, Maldives
June 5, 2012 at 03:47PM Travel Haa Alif Maldives Malé
On my recent trip to Maldives, it felt like we experienced three different versions of the country. The first world of Maldives that we visited was, in some sense, the real Maldives: the inhabited islands, the cities and villages and homes of Maldivians.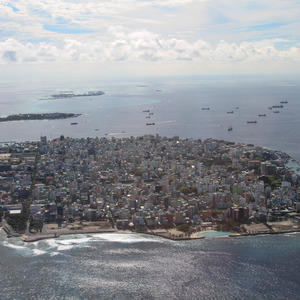 Our first stop was the capital city, Malé, a 6 square kilometre island stuffed full of some 100,000 people. We visited my friend Iko's family, who showed us around the island and started us off on what would become a trend on this part of our trip: non-stop eating.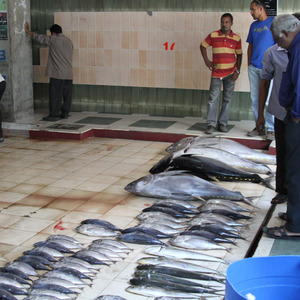 Iko's family runs a large fishing company, appropriately called "Big Fish". It was at Big Fish house that we were first introduced to some of the various joys of Maldives, including the various spice snacks, net chairs (made out of nets of rope, they allow air to circulate), and the very generous hospitality of all the Maldivians we met on our trip.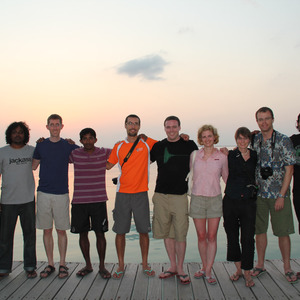 In Malé, we met up with Iko's brother Ozale and his friends who had arranged to take us up to some of the northern islands of Maldives for a few days. We visited Haa Alif Atoll, the northern most atoll of Maldives.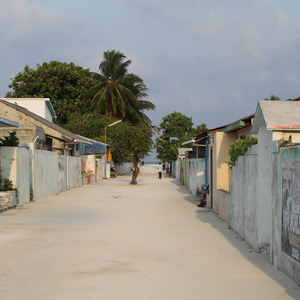 We were based out of Hoarafushi Island. Our next few days were spent speedboating around Haa Alif atoll, visiting a variety of islands and eating lots of food. Our hosts had obtained permission for us to visit the various inhabited islands — tourists are generally only allowed to visit the capital islands and resorts — so we got to see a world that few tourists see.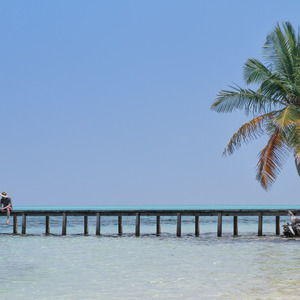 We visited many different types of islands. Some were entirely uninhabited, just an untouched tropical island. Some, like Hathifushi pictured at left, were formerly inhabited but now abandoned. Hathifushi was abandoned not too long ago, and there are a variety of old buildings and ruins on the island.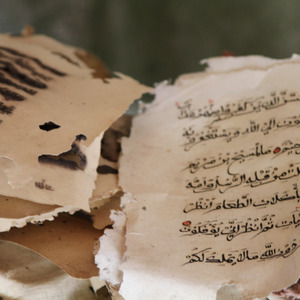 There's an old mosque on the island which had in it the remains of an old Koran. Hathifushi was next to the island that Agnes and I decided would be our new island mansion, which when complete will come fully equipped with helipad, tennis court, and of course air conditioning (it's hot and humid in Maldives!).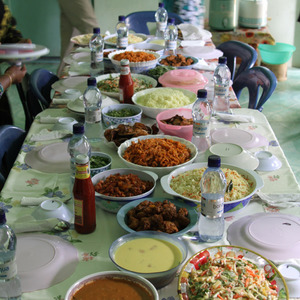 Our guides had arranged for us to have meals in the homes of friends and colleagues of the Big Fish family, and we had a meal (or three) on each and every island we visited. Meals typically consisted of various fish and vegetable curries, all locally caught fish of course.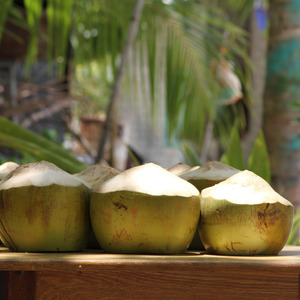 Watermelon juice was a special drink I particularly enjoyed. On several islands we also drank directly out of fresh coconuts for an afternoon refreshment, to tide us over from lunch (1-2pm) until afternoon tea (4-5pm) before dinner later that evening (7-8pm).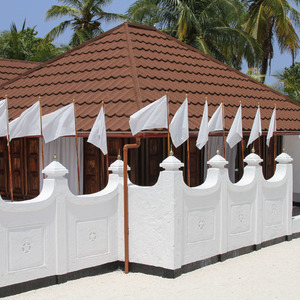 Another inhabited island we visited was Utheemu. The wooden palace of Utheemu dates from at least the mid-1500s, and was the birthplace of one of the great heroes of Maldives who drove out Portuguese invaders. A dynasty headquartered on the island followed and lasted for over 100 years. It's amazing that a wooden building has survived for nearly 500 years on a low-lying tropical island.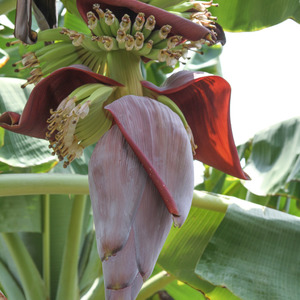 One of the fruits that grows easily in Maldives is the banana. I love bananas, and I was very excited to see banana trees in peoples' yards. At right is the flower of a banana tree, something I'd never seen before.
After three days in Haa Alif atoll, we flew back to Malé and bid farewell to our Ozale and our other friends from Big Fish, grateful for the gift of experiencing the true culture of Maldives — its people and its food!
Next stop: 20,000 leagues under the sea!