Douglas Stebila
Mediterranean cruise on the Queen Victoria: Part 3, Greece, Croatia, and Italy
November 27, 2011 at 05:46AM Travel Croatia Dubrovnik Greece Italy Queen Victoria Venice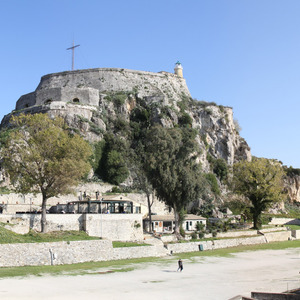 Read about our earlier cruise stops: Part 1 (Greece, Turkey) and Part 2 (Egypt).
After a day in port in Alexandria and another day at sea crossing the Mediterranean, we arrived in Corfu, Greece. We skipped the organized tour and spent the day wandering around town ourselves, visiting the new and old fortresses and enjoying a typically Mediterranean lunch in an outdoor cafe. Corfu, along with our previous Greek stop in Meteora, was featured in the James Bond movie For Your Eyes Only, my favourite of the Roger Moore Bond movies.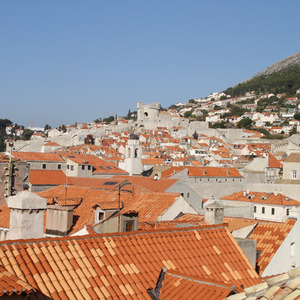 One more stop before the end of the cruise: Dubrovnik, Croatia. Situated on the Adriatic, at its height Dubrovnik was a naval power rivalling Venice. The historic old town is protected by magnificent city walls, and a common excursion is to walk along the top of the walls all the way around the city. It's quite a hike, and mom was sore by the end of it, but the memorable views make it well worth the effort. Dubrovnik was heavily bombed during the civil wars in Yugoslavia in the 1990s but is now fully restored. You can see which buildings were bombed by comparing the old, pale red tiles with the new, brighter red tiles.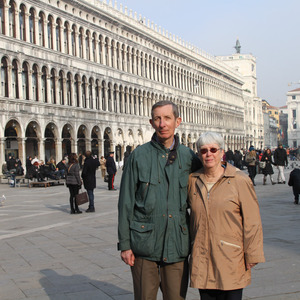 Our cruise was to terminate in Venice. But bad weather struck again and derailed our plans: this time, fog. We sailed to within 10km of the port of Venice, but heavy fog prevented us from safely navigating through the lagoon and down the narrow inlets between the islands of Venice. We sat at anchor for half a day waiting for the fog to lift, but to no avail, and after dinner the captain set sail for the nearby port of Trieste. While I'd been to Venice a few times before, my parents never had, and I was worried that they would not get a chance to see it before taking the train down to Rome. We managed to squeeze in a few hours wandering around Venice, including the essentials: a ride on the canals, St. Mark's Square, getting lost in the back streets and canals of Venice, and of course eating gelato.
My parents set off for a few days in Rome and I got on board the first of many planes to take me back to Australia, with barely enough time in Brisbane to unpack do laundry before going to Korea for a couple of conferences.
Check out all the pictures from the cruise in this gallery.