Douglas Stebila
Oslo, Norway
July 8, 2011 at 12:34AM Travel Norway Oslo
Last weekend I visited Oslo, Norway, the third capital city on my Scandinavian tour.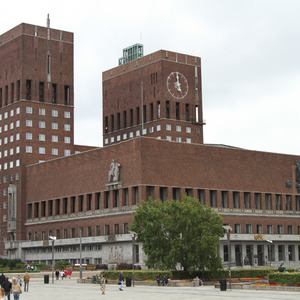 I arrived in Oslo on Friday afternoon and spent some time exploring the city. Oslo is a bit less scenic than the other Scandinavian capitals I visited, but still has some neat things to see.
Oslo City Hall was constructed in the first half of the 20th century.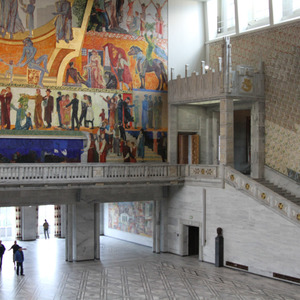 While the outside of the building is lacking in elegance, the interior is spectacular. There's a grand hall in the centre which is where the Nobel Peace Prize is awarded each year. The hall is decorated with three giant murals commemorating the 20th century in Norway. The meeting rooms on the second floor are also all decorated with murals, making it a fascinating government building.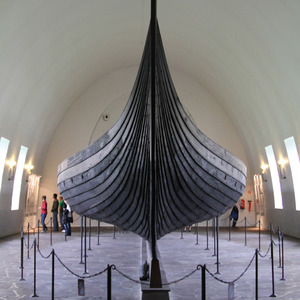 In Oslo I met up with my friend Paul who lives in London and a couple of his friends, who all flew in for the weekend (apparently people in Europe do that). We had a fun weekend with good food and drink, and a little more sightseeing as well. One stop was the Viking Ship Museum. It showcases three Viking ships which were recovered from burial sites. Apparently powerful rulers would have themselves buried in their ships with treasure. The ship you see at left was an ocean going vessel, the type of ship that might go from the British Isles to Iceland to Greenland to Newfoundland. I cannot imagine days or more on the open sea in that. I'll take the
Queen Mary 2
, thank you very much.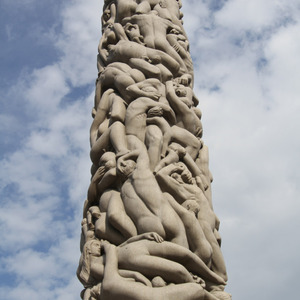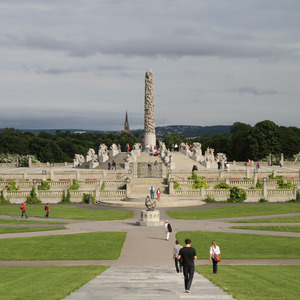 Oslo's highlight is clearly the
Vigeland Sculpture Park
in Frogner Park. Norwegian sculptor Gustav Vigeland convinced Oslo city council to pay his living and working expenses in exchange for him spending his working life designing sculptures for this park, and the result is fantastic. All of the sculptures are of people in various poses and conglomerations. The monolith (at left) towers over the park, but there are hundreds more statues throughout the park, and the locals seem to love it.