Douglas Stebila
Walt Disney World trip 2011, part 1
January 22, 2011 at 02:18PM Travel Florida USA Walt Disney World
Besides running far too much, my recent trip to Walt Disney World also involved visiting the theme parks. Although I consider myself a bit of a Walt Disney World expert, it had been nearly 10 years since I was last at Walt Disney World, so I was looking forward to seeing the parks and to taking some pictures.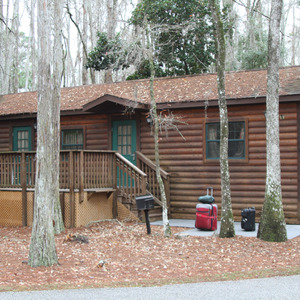 Because there were four adults going, and because we wanted to be able to cook our own dinners on the nights before the races, we stayed at
Disney's Fort Wilderness Cabins
, a resort I had not stayed at before. It had a master bedroom with a bed and two bunk beds for the girls, plus a Murphy bed (that pulled down out of the wall) in the living room for me. Fort Wilderness was a bit out of the way, but nice and quiet. It had the usual buses to the theme parks, but with a boat serving the Magic Kingdom across Bay Lake and the Seven Seas Lagoon.
When we arrived on Thursday, our first order of business was to pick up our race kits at the Marathon expo at the ESPN Wide World Of Sports, which I'd never been to. While the Disney resort offers a comprehensive bus service between all its different resorts and parks, we had a bit of trouble getting to the Expo, but eventually made it there where we picked up our various race shirts (3 shirts for half marathon / marathon / Goofy) and I bought a new running belt.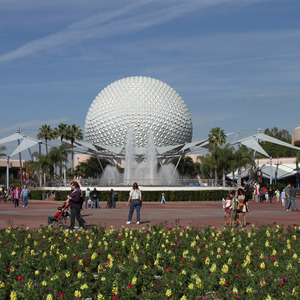 The first park we visited was
Epcot
. Future World has seen some changes since I was last there. There are two new rides, both excitingly intense rides: the Test Track, where you ride a kart through a variety of accelerations and speed tests that supposedly simulate car testing, and Mission: Space, which is a "training simulator" for a mission to Mars. This was one of my favourite rides.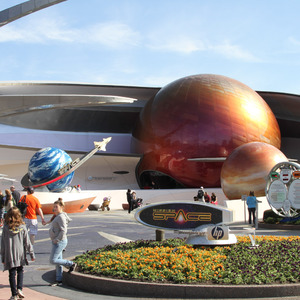 They simulated G-forces by spinning, although it didn't actually feel like spinning: I was amazed with how lift-off really felt like we were launching upwards with, according to Wikipedia, 2.5G of force pushing on us. That night we attended the Fantasmic! Light show over the World Showcase Lagoon. I come from the school of Disney theme park visitation in which you need to identify a good spot at least 20 minutes before any parade or fireworks show, but apparently early January is a quiet time at Walt Disney World: even once the show had started there were still lots of good places to see the show.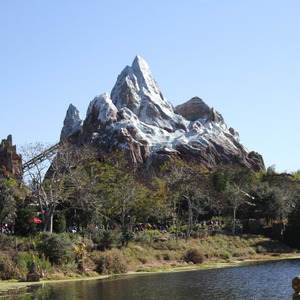 On Friday we went to
Disney's Animal Kingdom
, the newest and largest of the theme parks. It had only just opened when I last visited WDW in 1998, and not all of the park had been finished at that time, so I was very interested to see the complete park. I enjoyed the Kilimanjaro safaris in Africa. In Asia, which had not opened when I was last there, the top attraction was Expedition Everest, a roller coaster on a mountain.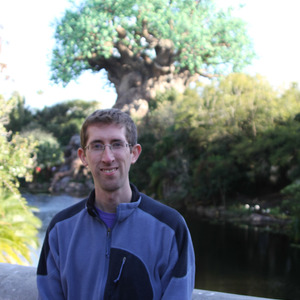 The roller coaster's climb to the peak gives a great view and is the highest point in Walt Disney World (and the second highest "mountain" in Florida).
My favourite part of Animal Kingdom is its centre icon, the Tree of Life, the trunk and roots of which features carvings of hundreds of animals. I love just walking around the base of the tree and looking at all the carvings.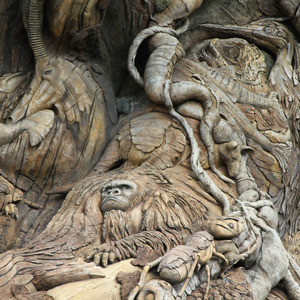 Another highlight of the park was the Festival of the Lion King show in Camp Minnie-Mickey, considered the best live musical show at Walt Disney World.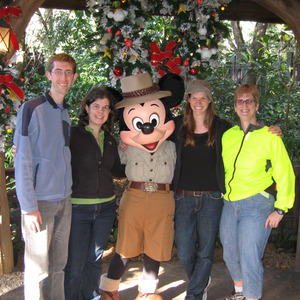 After the show we hightailed it over to the nearby character stands to get our picture taken with Mickey. Since the park is also a zoo, it closes earlier than all the other parks, which was good for us since we needed to be up early the next morning. We headed back to our cabin for our oats dinner and an early bedtime.
Saturday morning we ran the Half Marathon, as I wrote about earlier.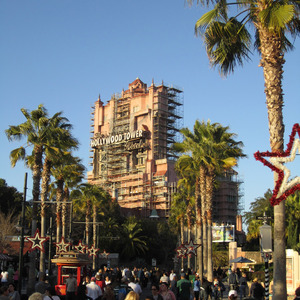 Rather than lay about in the afternoon in preparation for the marathon the next day (as would have been wise), we headed to
Disney's Hollywood Studios
(formerly called the Disney-MGM Studios).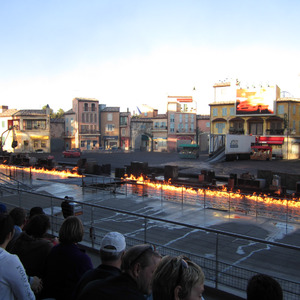 There's a new and exciting roller coaster, the Rock'n'Roller Coaster Starring Aerosmith, and the ever-popular Twilight Zone Tower of Terror. One of the highlights was a new show called Lights, Motors, Action! Extreme Stunt Show, which has lots of car stunts and revving motors. Cars go vroom vroom! Again we headed out early to get back to the cabin for another pasta dinner and an even earlier dinner.
More to come soon in part 2!