Douglas Stebila
Race report: Gold Coast Half Marathon
July 8, 2010 at 04:44PM Running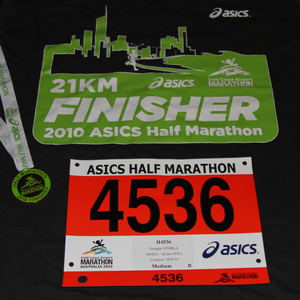 Last weekend I ran in the
Gold Coast Half Marathon
. I started training back in the beginning of March as summer waned in the southern hemisphere. My goal was a personal best, aiming to beat my previous best of
1:43:38
. At the beginning of the training I believed this was a feasible goal, but the last few weeks leading up to the race I was doubtful as I had been travelling a lot and was not very mentally prepared for the race.
The race started at 6am in Gold Coast, about an hour's drive from Brisbane. My running partner Ken drove me down (though he did not run in the race that day), and a PhD student from the office, Chai Wen, also came along to cheer me on: the biggest cheering squad I've had since high school cross country. (Though sadly I didn't see them, nor did they see me, the entire race.)
I was not particularly thrilled about running that morning. I didn't sleep well the night before, and when the alarm went off at 4:00am I seriously thought about skipping the race. I managed to get myself up and out the door though.
The temperature before the start of the race was around 8ºC, so I decided to run in long sleeves. I started off at the front of the 1:40-1:50 time block, and that was fairly close to the front of the race. I crossed the start line within a minute of the start of the race, with U2's "Beautiful Day" blaring over the loudspeakers.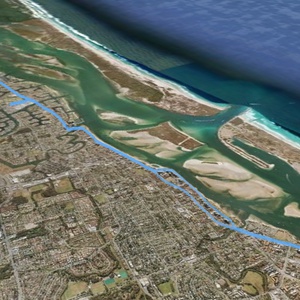 The first kilometre was slow for me, as it always is, with so many people crowded into such a small area. By the second kilometre I was on my target pace of 4:45/km, or 12.6km/hr. I did not have much of a plan for the race, beyond "run at or slightly better than my target pace the entire race". I was able to do this easily for the first few kilometres and was feeling quite good, so by kilometre 5 I was confident I had a good chance at achieving both a personal best and my stretch goal of 1 hour 40 minutes.
At around kilometre 7 or 8, I noticed someone ahead of me running exactly my pace. I stuck with her, just a few feet behind, for over 10km. I felt solid straight through to kilometre 18, with very consistent split times, no more than a few seconds off my target. At around 18.5, I started to feel a bit tired, and noticed my pacer was fading a bit too. I left my pacer behind to ensure that I stayed at my target pace. Kilometres 19 and 20 were a bit tough, but I picked it up in kilometre 21 and finished strong, albeit without much of a sprint.
My watch showed a finish time of 1:40:08, which I was quite happy with, but it was just a tad over the elusive 1:40:00. When I got home and checked the "chip time" results, which corresponds to the time the race coordinators recorded for me as my timing chip crossed the start and finish lines, it was 1:39:59. Who am I to argue with that?
I was quite surprised, really, to have achieved that personal best and to beat 1 hour 40 minutes. Analyzing the data when I got home, I was pleased to see that I had a strong negative split, with the second half of the race being a full minute faster than the first half of the race. I'm very pleased with the result and enjoyed the training leading up to the race.
My next race is in four weeks' time. Ken and I are going to run a 10k here in Brisbane, with a goal of speed. I haven't run for speed in a long time—ever, really—so this will be literally and figuratively a change of pace.