Douglas Stebila
Race report: Toronto Marathon 2009
November 13, 2009 at 04:40AM Running
After
completing the Brisbane Half Marathon in August
, I spent the rest of August, September, and October training for the Toronto Marathon. It was my first marathon, and took place on Sunday, October 18, 2009. Although I trained solo in Brisbane, I had partners in training back in Waterloo: Dan, with whom I ran the Toronto Waterfront Half Marathon last year, and Cecilia.
After spending the week before the race in Windsor, I went up to Toronto on Friday afternoon. On Friday and Saturday night, I stayed at my regular hotel in Toronto (Chez Laura, which has excellent crêpes!). Cecilia came in from Waterloo on Friday night as well. We had a relatively relaxing Friday evening and Saturday, with a few errands but nothing too taxing. Saturday night came around and I was starting to get nervous.
Nervous, after all, because this was my first marathon. A half marathon, that's a bit of work, but nothing too ridiculous. For both of the half marathon races I'd run, I'd made sure that I hit that distance in the training schedule a few weeks before the race. Just to know that I could do it. That gave me a lot of confidence going into the race: it wasn't a question of whether I'd finish, but how fast my time would be.
A marathon is a different story. Marathons aren't something you do on a whim. Ten, twenty kilometres, that's doable, and 30, well, that's pushing it, but something you can do on a weekend run if you try. But 42.2 kilometres is an awful long way.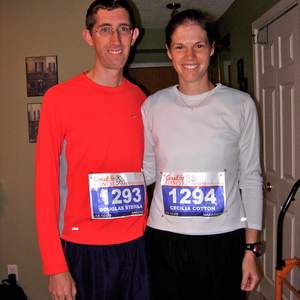 I was reasonably well prepared physically, I think. But talking to Cecilia and Laura's friend Donna (who was also running Sunday morning), I discovered I wasn't really prepared mentally. I didn't have a plan, and in a marathon, you need to have a plan. I hadn't really come up with any time goals (besides finishing!). Cecilia and I talked about a plan a little bit, but it was completely gone from my brain Sunday morning.
The first decision to make on Sunday morning was what to wear. Fortunately, because I was travelling around the world, I didn't bring extra clothes, so I didn't have any options. It was about 2ºC when we got up on Sunday morning. I had committed to wearing shorts, but it was a mite bit colder than when I wore shorts running in Brisbane. Nonetheless, it was definitely the right decision. I went with a short sleeve running shirt with a long sleeve running shirt on top, and then cheap throwaway gloves.
The half marathon started at 8am but our marathon didn't start until 9am. I didn't want to arrive too early at the start because it meant waiting around in the cold, but others wanted to arrive to get rid of their bags (which didn't make much sense to me—Laura was coming down to the finish and could bring our bags, and basically as soon as we arrived they had do get rid of their bags anyway, but oh well).
The start was up in North York near the civic centre (Mel Lastman Square). Fortunately, the civic centre was unlocked, so we waiting inside in the warmth until about 15 minutes before the start.
It was cold. Standing around waiting for the start I was very chilly, and the nervousness returned when I remembered I didn't have much of a plan. Mostly just run. For the next four and a bit hours. With some water and food (gels) every 45 minutes or so.
As always, the race start was slow as we waited for the people in front of us to cross the start line. Since it was only the marathoners, not the half marathoners too, it wasn't too long a wait, and we crossed the line less than a minute after the start.
After less than a kilometre, we turned onto Yonge Street. Just the idea of running down Yonge Street is pretty cool to me, more so than running on the Lakeshore: Yonge Street is the main street in Toronto, and they close it down just for us! (It makes Torontonians cranky.)
I saw Cecilia in front of me the whole time, and as we turned onto Yonge Street I caught up to her and started running with her for a bit. We chatted, and agreed to run together until one of us wanted to go ahead or behind. This was the best decision I made in the whole race, and I'm so grateful for Cecilia for letting me run with her. We stayed together for almost the entire rest of the race, except for a few kilometres around kilometres 38 to 41, where I lead by a few metres. It was great to run with someone else. We were out there a long time—over four hours—and it was nice to have someone else with whom to pass the time.
Cecilia's plan for the race was consistent pacing. We were aiming for four hours on the dot, and Cecilia wanted to do it with a "negative split", which means running the second half faster than the first half. It's a good idea, because most people tend to go out too hard in the first half and then are dying the second half. She had planned for an average of about 5:42 per kilometre in the first half and about 5:40 per kilometre in the second half.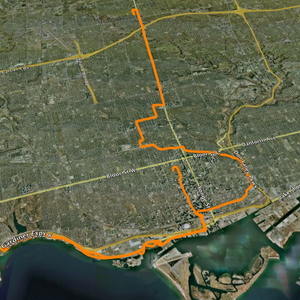 The first quarter of the race was very comfortable. We were going at a relaxing pace, had a nice bit of a chat, and warmed up quite quickly. I shed my gloves after a few kilometres, and rolled up the sleeves shortly thereafter. We spent a while running down Yonge Street (which had a few hills, but was overall a slight downhill), and then moved off of Yonge to run through some nice little neighbourhoods that I never even knew existed.
The second quarter of the course took us through Rosedale and past Casa Loma. It was like a nice Sunday morning run in a quite neighbourhood. We were a little less chatty this quarter, but we still talked every once in a while. The half way point came up somewhere down near Queen's Quay, and we hit the halfway point at 2:00:55, which we were very happy with!
The third quarter of the course took us along Lakeshore Boulevard, past Ontario Place, out to the little white bridge over the Humber River as Toronto meets Etobicoke. My legs started getting a little heavier, but I was still feeling alright. We were taking gels every 45 minutes or so and had taken water about every half an hour, so my body was holding up well. Better, in fact, than on the long runs in Brisbane, where it was warmer and where I was less well nourished through the run. I was really excited to get out to the little white bridge; when I take the train or the bus into Toronto, it's the part that says to me "you've arrived in Toronto", so I was thrilled when I ran underneath it and started the run back towards downtown.
Apparently many people hit "the wall" around kilometre 30 to 32 during a marathon. I didn't hit the wall at that point, and was feeling alright as we moved into the final quarter of the race. When we got back to around Ontario Place, I started pulling ahead of Cecilia. We had previously agreed to split up if that became necessary. I kept looking back for a while and still saw her 10 to 15 metres behind me, so she was still hanging in there. After a while though, I didn't have the energy to look behind and worry about Cecilia: the race was taking its toll on me, and worrying about me became a challenge enough.
I was still doing well up until I passed the Royal York and hit University Avenue. With about 2 kilometres left until Queen's Park, I hit my wall. I wanted to have a solid final two kilometres, but the legs just weren't agreeing with me on that. Having slowed a bit, I tried to pick it up to at least stay on the target pace, but that lasted only for about 30 seconds and then I started walking for a little bit. Somewhere around kilometre 41, Cecilia caught up with me and told me that we were going to finish this thing.
The race course designers, in their infinite wisdom, decided that we had to run about three quarters of the way around Queen's Park to make it to the finish line. Let me tell you, after 41.5 km, that last stretch around Queen's Park seemed infinitely long. Cecilia pulled me around that last stretch. Laura noticed us about a quarter of the way around Queen's Park and ran alongside the course with us towards the finish line.
After what seemed like forever, the finish line finally appeared. Cecilia and I crossed the finish line together, giving me a chip finish time of 4:02:20. Once the race was done, it was a good thing that (a) Cecilia was with me, and (b) there were fences keeping us in a corral to direct us where to go, because my brain wasn't really functioning very well. Cecilia led me towards water and food, and somewhere along the way I got a Mylar cape to keep me warm.
I was very happy with my finish time! I had had an idle thought that I would be awesome to beat four hours, but this was an amazing result. Our second half was in 2:01:25, only 30 seconds slower than our first half, which is amazing. The race website told us later that in the second half of the race, we passed 203 people and were only passed by 6, so Cecilia's plan of consistent pacing worked out very well for us.
After gaining coherence and getting some food and drink, we made our way to our support team (Laura) and wandered over to the course to watch for Dan. He came through soon after at 4:19:28 (chip time), a great time! I went back into the finish area to help Dan through. Meeting up again with Cecilia and Laura, we headed back to Laura's apartment, where hot showers and scrambled eggs were had by all.
I couldn't be happier with my first marathon. I'm so glad to have run with Cecilia for the whole race, it made it much more fun and I know my result was better because of it. Although I think the half marathon is more my distance, I won't rule out future marathons. Cecilia has informed me that Walt Disney World has a marathon each year, and that sounds like a lot of fun.