Douglas Stebila
Chocolate chip cookies
August 13, 2009 at 04:10PM Recipes
Chocolate chip cookies are one of my favourite treats. We in the Stebila family pride ourselves on enjoying cookies and chocolate, so believe me when I say that the recipe below is worth the effort.
Last year the New York Times had an article about chocolate chip cookies entitled Perfection? Hint: It???s Warm and Has a Secret, in which they sought out the recipe for perfect chocolate chip cookies. Their poor reporters tried dozens of chocolate chip recipes until settling on what they believe is the perfect chocolate chip recipe. Perhaps I've had a better chocolate chip recipe from somewhere, but these are pretty darn good homemade cookies.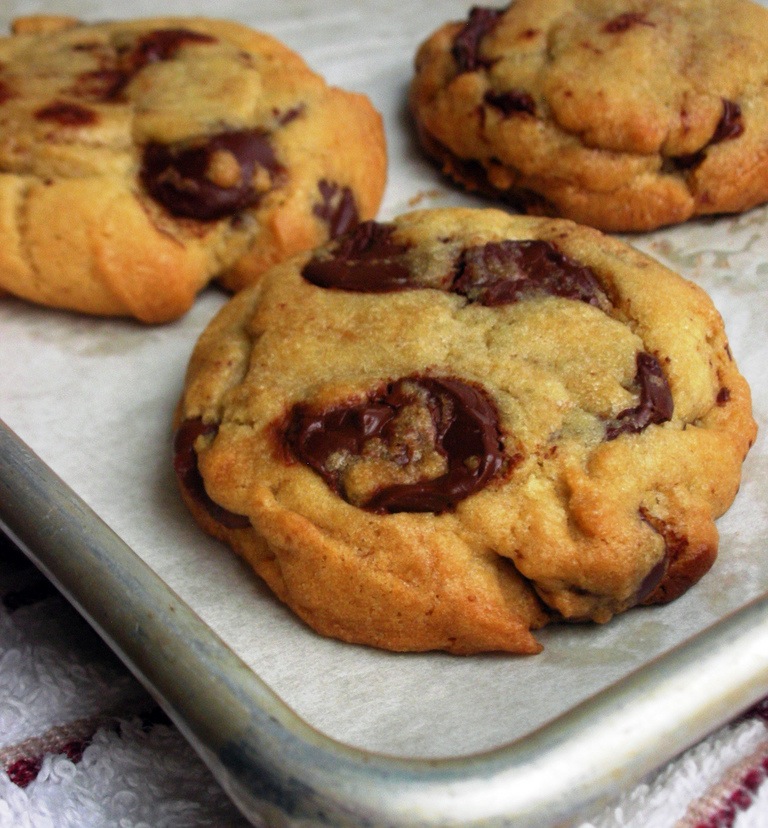 They're not your everyday chocolate chip cookies, however. They're not cookies that you sit down and eat half a dozen of. These are gourmet chocolate chip cookies that are 5" in diameter and taste best straight out of the oven. These are cookies that you make for company (which, incidentally, I'm planning on doing tomorrow night).
The three secrets to the recipe are simple: use chunks of really good chocolate, make the cookies big, and refrigerate the dough for 24 hours before baking.
This last trick, refrigerating the dough for at least 24 hours before baking, seems to be the most important. I've made these cookies a number of times. On the occasions when I've been so eager to eat them that I bake them right away instead of waiting, the cookies have not come out as good. And for experimental control, I have done an experiment where I bake half of the dough it immediately and save the other half to bake a day or two later. The day or two later cookies always taste much better.
Here's the recipe from the New York Times. Enjoy!
Chocolate Chip Cookies
Ingredients
1 cups cake flour
1 cups bread flour
2/3 teaspoon baking soda
3/4 teaspoon baking powder
3/4 teaspoon coarse salt
2/3 cup unsalted butter
2/3 cup brown sugar
1/2 cup granulated sugar
1 large egg
1 teaspoon vanilla extract
1/2 pound bittersweet chocolate disks*
sea salt


* Use high quality chocolates disks, or chocolate fèves, or chunks of couverture chocolate, with at least 60% cocoa. I use Nestlé Plaistowe 63% Cocoa Couverture chocolate, but that doesn't appear to be available in Canada.
Directions
Sift flours, baking soda, baking powder and salt into a bowl. Set aside.
Using a mixer fitted with paddle attachment, cream butter and sugars together until very light, about 5 minutes. Add egg, mixing well. Stir in the vanilla. Reduce speed to low, add dry ingredients and mix until just combined, 5 to 10 seconds. Drop chocolate pieces in and incorporate them without breaking them. Press plastic wrap against dough and refrigerate for 24 to 36 hours. Dough may be used in batches, and can be refrigerated for up to 72 hours.
When ready to bake, preheat oven to 350 degrees. Line a baking sheet with parchment paper or a nonstick baking mat. Set aside.
Scoop 9 3 1/2-ounce mounds of dough (the size of generous golf balls) onto baking sheet, making sure to turn horizontally any chocolate pieces that are poking up; it will make for a more attractive cookie. Sprinkle lightly with sea salt and bake until golden brown but still soft, 17 to 20 minutes. Transfer sheet to a wire rack for 10 minutes, then slip cookies onto another rack to cool a bit more. Eat warm, with a big napkin.


Makes 9 cookies.