Douglas Stebila
Cadbury Creme Egg Muffins
March 31, 2008 at 07:07PM Recipes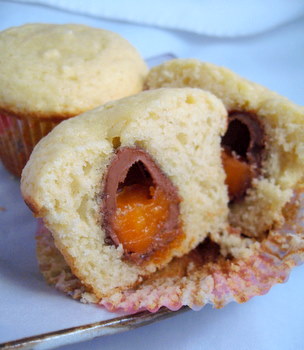 My friend Laura, knowing my affinity for Cadbury Creme Eggs, sent me this recipe (originally from
bakingbites.com
) for
Cadbury Creme Egg Muffins
. When baked, the muffins are kind of plain looking, but they're delicious with a nice treat waiting inside. Best served warm; reheat in the microwave for a few seconds before eating. A great way to make use of discount Easter candy now on sale!
Cadbury Creme Egg Muffins
Ingredients
1 cup all purpose flour
1 teaspoon baking powder
1/4 teaspoon salt
3/8 cup sugar
1 large egg
1/6 cup butter, melted and cooled
1/2 teaspoon vanilla extract
1/4 cup milk
6 mini Cadbury creme eggs
Directions
Preheat oven to 350ºF. Line a 6-cup muffin tin with paper liners.
In a large mixing bowl, whisk together flour, baking powder and salt.
In a small mixing bowl, whisk together sugar, eggs, melted butter and vanilla until smooth. Whisk in milk.
Pour wet ingredients into dry ingredients and stir until just combined and no streaks of flour remain.
Evenly distribute muffin batter into prepared pan. Place 1 mini Cadbury creme egg in the center of each muffin. You can use a small knife to pull a bit of batter over the top of the mufin, if you like.
Bake for 14-16 minutes, until the top of the muffin springs back when lightly pressed and the edges are a light gold.
Cool on a wire rack before slicing.
Makes 6 muffins.